HELICOPTER TRIAL LESSONS at GLOUCESTERSHIRE STAVERTON AIRPORT with JAMES KENWRIGHT.
Trial helicopter lessons at Gloucestershire Staverton airport- bookings are now being taken. Flying in a helicopter is an incredible experience but actually flying the helicopter yourself is even more exhilarating!
James Kenwright has over 25 years experience of flying helicopters and training helicopter pilots. Based at Staverton, Glouecstershire airport he has access to a number of different types of craft- to help you gain your PPL (H) safely, quickly and affordably.
Helicopters are both fun and challenging. Helicopters also offer a better career path than airplanes- the world is drowning in airplane pilots but desperately short of helicopter pilots.
YOUR TRIAL HELICOPTER LESSON WILL INCLUDE:
A briefing on how to fly the helicopter before take off so that you can take the controls and fly it yourself! The trial lesson will involve all aspects of helicopter flight from hovering to performing an approach to an off airport location. If you are opting for the 30 minute trial lesson the whole process takes about an hour. If you book the 60 minute trial lesson then this will take about 2 hours.
YOUR HELICOPTER TRIAL LESSON PRICES
Robinson R22- room for one passenger:
30 mins: £230 inc VAT
45 mins: £310 inc VAT
60 mins: £440 inc.VAT

Robinson R44- room for 1 passenger + 1 guest:
30 mins: £340 inc VAT
45 mins: £460 inc VAT
60 mins: £640 inc.VAT
Discovery day: £1250 inc VAT
Discovery Day
Robinson R22 £840 inc VAT 2 hours flying (2 separate flights)
Robinson R44 £1250 inc VAT 2 hours flying (2 separate flights)
Please note- the trial lesson gift vouchers expire and must be flown within 6 months of the purchase date. There is a weight limit of 240 lbs or 109 kg for an individual for the Robinson 22 helicopter and a limit of 300 lbs or 136 kg for an individual for the Robinson 44 helicopter.

To book your helicopter flight please email me on james@jkhelicoptertraining.com or text me on 07900 680859.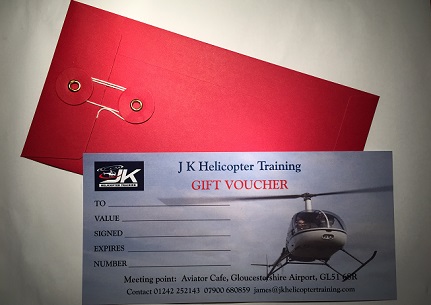 HELICOPTER PILOTS VIEWS of JAMES KENWRIGHT'S TRAINING
The best indication of the training that you will recieve is the experiences that others have gained from James Kenwright. Here are just three of their testimonials:
"...James's calm, confident and extremely professional approach really helped me quickly progress with my training..."
"...I am indebted to James for his astonishing patience with my frequent displays of incompetence and, yes, nerves...."
"...James is a true inspiration, emphasising the safety aspects of helicopter flying, demonstrating the amazing potential of Robinson helicopters and transferring those skills to the student with enthusiasm ..."
To read more pilots' testimonials please click on this James Kenwright helicopter training testimonials link and also read some of the benefits of helicopter flying
Please note- the trial lesson gift vouchers expire and must be flown within 6 months of the purchase date.
Do these credentials inspire confidence in my ability to help you qualify for a helicopter licence? If so please ring me now on 01242 252143 or 07900 680859 or please click on the

learn more button. Either way I'll happy to answer any questions which you might have.
Prices correct at November 3 2022